Publications
This report provides guidance to governments and their development partners on how public funding can be used to provide energy access to households through off-grid solar (OGS) solutions.
May 16 2022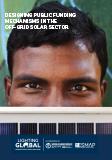 The report explores the synergy between mobile banking services and SHS businesses and develops a use case for mobile wallets in SHS business models through a case study of the SHS market in Sindh, Pakistan.
December 29 2021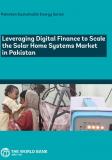 This reports elucidates the role of financial innovation in the off-grid solar sector and provides a roadmap for practitioners, financiers, and entrepreneurs navigating capital raises for companies active in the sector.
February 25 2020