Addressing the Gender Dimension of Energy Projects in Africa
News
Addressing the Gender Dimension of Energy Projects in Africa
September 13 2011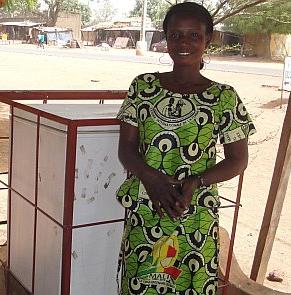 In Kenya, Mali, Senegal, and Tanzania, the groundwork is being laid for a new vision of energy access that includes the needs of both men and women. Since 2010, the Africa Gender and Energy Program, part of the World Bank's Africa Renewable Energy Access Program (AFREA), has been applying a gender-sensitive approach to energy project design and policy dialogue in African countries. Supported by the Energy Sector Management Assistance Program (ESMAP), the Gender and Energy Program has worked to move the discussion into African communities, taking a hands-on approach to improving energy access in rural areas. 
"Consensus now exists that gender integration is critical. It's not only a Millennium Development Goal, but also a clear point for discussion at the beginning of project development. The question has moved from why we should include gender to how to do it," said Dana Rysankova, AFREA Program Manager and Senior Energy Specialist in the World Bank's Africa Energy Unit (AFTEG). 
Productive feedback is now being provided on these issues as trainers and policy makers go out to villages and collect direct accounts from men and women. This feedback is integrated into the World Bank's operations, lending, research, and policy dialogues with countries. 
A Simple Approach
By sitting with national energy task teams and clients and identifying what is needed, the Africa Gender and Energy team develops approaches varying from awareness training and understanding to more in-depth programs.
In Mali, work on gender is already part of the International Development Association (IDA)-financed Household Energy and Universal Access Program. Madame Niang is the gender focal point for the rural energy agency AMADER. Based on the agency's work in hundreds of villages in the past few years, a full gender and energy needs assessment has been carried out by the agency. Based on the findings, an action plan will be developed for training, knowledge sharing and capacity building activities for men and women in these rural communities.
"Already, improving domestic energy access, changing woodfuel use, modernizing cook stoves, and powering up rural health centers, has enormously improved women's quality of life and income generating ability. Now, much of the work needs to focus on getting cheaper technologies to reduce electricity prices," said Madame Niang.
Similarly, at the request of the Rural Energy Agency (REA) in Tanzania, initial gender awareness training was conducted for staff in October 2010. REA implements the World Bank-supported Lighting Rural Tanzania program. A work plan proposed with REA for integrating gender issues into its operations will see the agency acquire useful tools like detailed checklists and guidance notes for all phases of project development while ensuring gender is uniformly included in all activities.

In Senegal, the Africa Gender and Energy Program provided support to the World Bank's energy team to adopt a gender sensitive approach in the preparation of the Sustainable and Participatory Energy Management Project. The review of the gender aspects of the project's first phase led to recommendations for project design, planning strategy, implementation and developed indicators to measure gender aspects through the life of the project. The result is gender equality principles leading project objectives, with gender sensitive actions that can be implemented as part of the project. 
Training and Local Context
In an effort to ensure dynamic and timely assistance, the Africa Gender and Energy team identified a team of global, regional and local experts in gender and energy. This team of practitioners will be poised to take forward gender training courses that respond to the local needs and cultural context of each country. In time, the successes are expected to serve as models for other countries and continents.
"In building the Africa Gender and Energy Program, we considered examples of good practice on gender and energy from other regions, most of which were developed on an ad-hoc basis. Our program is the first of its kind developed in a consistent manner and we are sure that, down the line, Africa will have many of its own good examples to share," said Adriana Eftimie, Task Team Leader, Gender Coordinator, Oil, Gas and Mining unit for the World Bank's Sustainable Energy Department.
Training could also extend to Universities so that women in particular are encouraged to become experts in the field of renewable energy and lead the way in Africa in terms of service provision. Efforts continue in other parts of the Region, with dialogue with task teams and clients taking place in Benin and Kenya. As the pilot approaches move forward, knowledge and lessons learned will be documented and shared to help further efforts be more targeted, practical and focused on results.
 
For more information on AFREA: Click here.
 
Related Information:
Biomass Energy Workshop, Nairobi 2010
Women and the 2012 World Development Report
Related Links:
Lighting Rural Tanzania Competition
Contact:  Vanessa Lopes