ESMAP Jointly Presented: Financing Decentralized Renewable Energy for the Last Mile: How to Unlock Finance that Supports Universal Energy Access | July 13
Events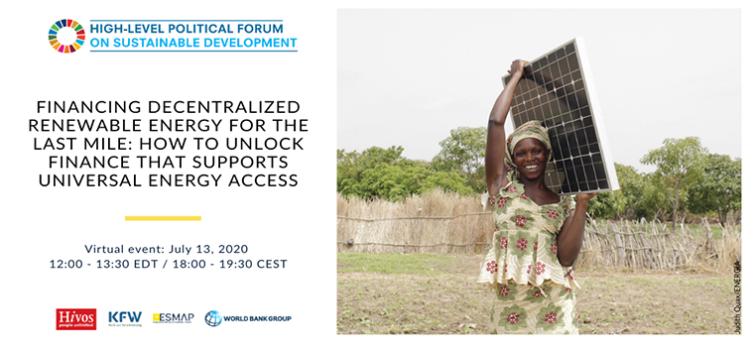 PAST EVENT | ESMAP Jointly Presented: Financing Decentralized Renewable Energy for the Last Mile: How to Unlock Finance that Supports Universal Energy Access | July 13
Venue: Virtual
PAST EVENT
Background
One of the key barriers to delivering energy solutions for all is the limited access to affordable finance at the local and national levels to serve urban and rural poor with appropriate energy access solutions. At international level, finance flows are insufficiently targeting the last mile and flowing mainly to higher income areas and on-grid solutions.
To achieve universal access for all, as laid out in SDG7, priority should be given to include the last mile in the energy access equation, especially through dedicated financial mechanisms and support for decentralized energy solutions. This event provided space for discussion on needs, best practices and solutions, to support the global development of supportive financial mechanisms that serve energy access for the last mile.  
The event explored financing options to increase the flow of finance for last mile energy access. After the event, participants will have increased understanding of the needs of last mile energy entrepreneurs, what support would be beneficial and available or potential financial mechanisms that support last mile energy access. 
Moderated by | Maimuna Kabatesi, Program Manager Climate and Energy at Hivos - East Africa
Speakers:
Jan Gerald Andreas, Principle Energy Economist, KfW Development Bank (presentation)
Dana Rysankova, Senior Energy Specialist, World Bank (presentation)
Eco Matser, Program Manager Green & Inclusive Energy, Hivos (presentation)
Panelists:
Paul Mbuthi, Deputy Director, Renewable Energy Secretariat, Ministry of Energy, Kenya
Emma Colenbrander, Head of the Global Distributors Collective
Hannah Kabir, Chief Executive Officer, CREEDS Energy
Sarah Bieber, Strategic Partnerships, Acumen
Sarah Alexander, Senior Advisor, SELCO Foundation
Organizers | Hivos, WorldBank – ESMAP, KfW
Contact | esmap@worldbank.org 

​​