What is an energy subsidy? An energy subsidy is a deliberate government action targeting electricity, fossil fuels, or district heating. It reduces the cost of energy purchased, produced, or delivered while also increasing the revenue of energy suppliers. Energy subsidies are typically provided through transfers of government funds, price, and quantity restrictions for energy products, elimination of taxes and other government revenues, and underpricing of goods and services needed for energy supply.
How large are energy subsidies globally? According to figures from the International Energy Agency, aggregate global spending on fossil fuel consumption subsidies is estimated at US$440 billion in 2021.  As energy consumption and prices began to rise with gradual economic recovery from the pandemic, subsidies rebounded from their 2020 lows of US$180 billion, and even exceeded pre-pandemic levels, estimated at US$312 billion in 2019. The estimate for fossil fuel consumption and production subsidies combined stood at US$351 billion in 2020, based on the latest OECD data.
What are energy subsidies intended to do? What do they actually do? While their stated objective is to protect poor and vulnerable households and competitive enterprises from high energy costs, many energy subsidies fail to serve this intended purpose and lead to waste of limited resources.  Broad-based energy price subsidies tend to be "regressive," which means that they benefit the rich more than they help the poor. This is because the more energy a household consumes, the more they benefit from the subsidies. Since higher income households tend to consume more energy, majority of the benefits of subsidies therefore reach those households, rather than the poor, who consume much less. By artificially lowering the cost of energy consumption, subsidies cause economic distortions, impacting all segments of the economy. These subsidies also impose a heavy fiscal burden on governments and divert government resources away from other critical priorities, such as investing in service delivery in health, education, and social protection, green infrastructure, and more recently, recovery from the global pandemic. The opportunity costs of energy subsidies are more significant for developing countries, where investment needs in human development and infrastructure are substantial and fiscal resources are limited.
Is reforming energy subsidies important for climate change? Subsidies can contribute to excessive consumption of energy, including fossil fuels, and, subsequently, lead to higher emissions of local air pollutants and greenhouse gases. Phasing out energy subsidies is pivotal for the decarbonization of the energy sector and enabling of a clean energy transition. Recognizing this, there is growing consensus on the urgency of phasing out fossil fuel subsidies, as called for in the context of the alignment of government policies with the 2015 Paris Climate Change Agreement, explicitly mentioned in the 2021 Glasgow Climate Pact, and reflected the World Bank's Climate Change Action Plan (CCAP) 2021-2025.
What does it take to reform energy subsidies? Reforming energy subsidies is challenging, as is making those reforms sustainable. While there is no single recipe for success, country experiences have demonstrated that it is best to start with a wide view of the challenges and opportunities for reform. Reflecting the complexity of the issue and diverse set of stakeholders involved, a comprehensive approach to subsidy reform would have to consider the macroeconomic, fiscal, poverty, sectoral, social, and environmental impacts of subsidies and their potential reform. Moreover, a good understanding of the political context and stakeholder perspectives is critical for developing engagement and communication strategies to foster support for reform and enable its sustainability.
Introduction the Energy Subsidy Reform Facility
What is the Energy Subsidy Reform Facility?  ESMAP's Energy Subsidy Reform Facility (ESRF) was established in 2013 to support developing country governments in designing and implementing energy subsidy reform programs. The facility was established to meet the demand for technical, analytical, and advisory support on diverse and interrelated issues to be addressed while reforming energy subsidies.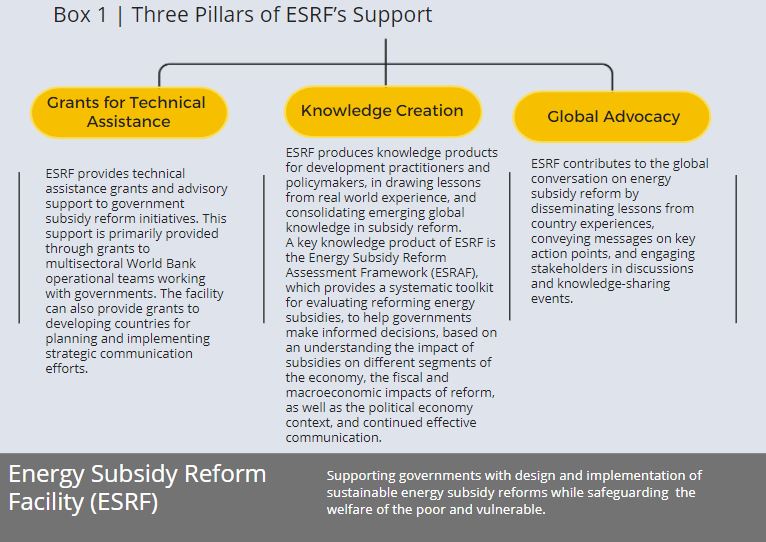 What does ESRF do? ESRF supports governments' reform efforts through the provision of technical assistance (TA) and financing for analytical work, advocacy, and knowledge exchange. As a demand-driven facility that combines sectoral and regional expertise, ESRF support contributes to delivering tailored and timely advice through World Bank operational and advisory engagements.  The facility supports analytical work on various aspects of the complex energy subsidy reform agenda. In addition to helping strengthen client capacity, ESRF also supports the expansion of the global knowledge base in energy subsidy reform by developing several products that provide work that provides analytical foundations to operations and further evolve into innovative tools.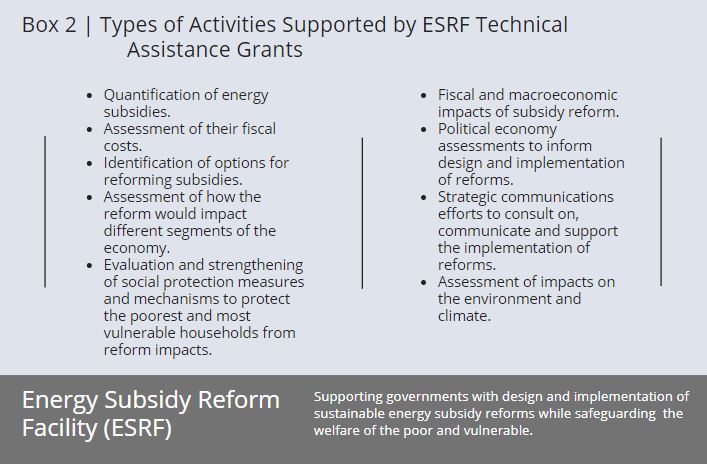 What has been achieved to date? Since its establishment, there has been steady and growing demand for ESRF support.  Between 2013 and 2021, the facility provided US$24.6 million for technical assistance to support governments in designing and delivering energy subsidy reforms in 65 countries. In 2021 alone, ESRF provided technical assistance increased by US$2.5 million and informed the design of nine World Bank lending operations approved in 2020-2021, with a total funding envelope of US$4.2 billion. Currently, 35 grants are under implementation in almost as many countries, supporting the reform of energy subsidies for liquid fuels, electricity, and district heating sectors worldwide.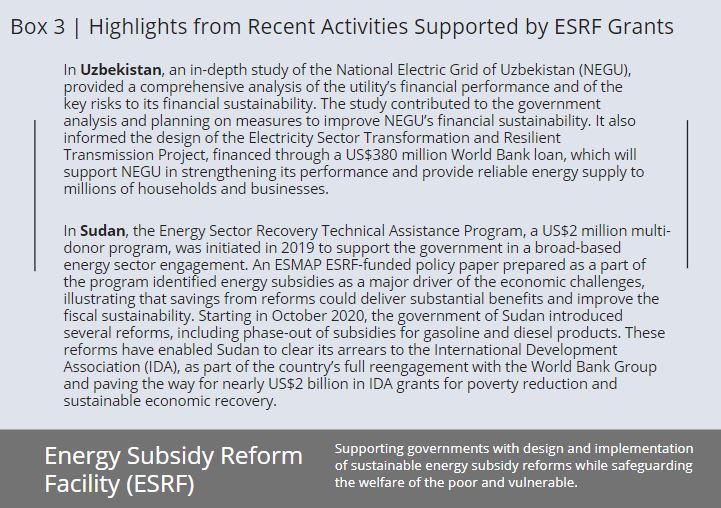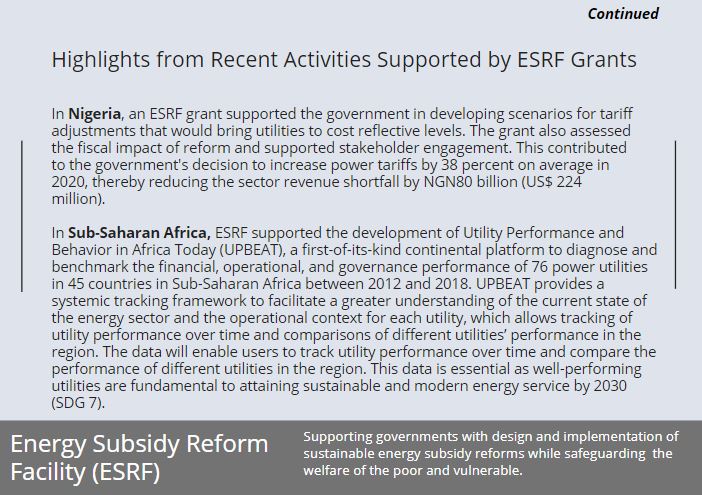 Contact: Defne Gencer at esmap@worldbank.org