Publications
Most of the handbook focuses on technical aspects relating to developing and operating floating solar photovoltaic (FPV) projects; some sections focus on commercial and legal aspects.
October 28 2019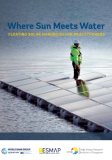 ESMAP launches Floating Solar Market Market Report, 2019: with a global estimated potential of 400 gigawatts, under conservative assumptions, floating solar could double the current global installed capacity of solar PV. Although the…
June 13 2019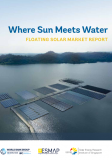 This Executive Summary of the Floating Solar Market Report is the first publication of the series Where Sun Meets Water dedicated to floating and hydro-connected solar deployment.
October 29 2018