Private Sector Participation in Electricity Transmission and Distribution: Experiences from Brazil, Peru, the Philippines, and Turkey
Publications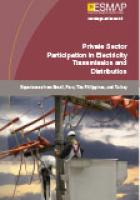 Private Sector Participation in Electricity Transmission and Distribution: Experiences from Brazil, Peru, the Philippines, and Turkey
Often as part of a broader market oriented reform program, governments have resorted to PSP in transmission and distribution (T&D) for a variety of reasons, including to (i) offset years of under investment and poor operating performance under public ownership; (ii) attract considerable private investment to fill the financing gap stemming from new T&D additions amid rapidly growing demand for electricity; and (iii) raise fiscal revenues by offloading state assets. In some cases (e.g., Brazil and Peru), a prolonged electricity supply crisis prompted government into structural reforms of the T&D sector.
The Energy Sector Management Assistance Program (ESMAP) study summarized here covers PSP in transmission, as well as distribution. Indeed, the four case-study countries—Brazil, Peru, Philippines, and Turkey—were, in part, selected based on the substantial transmission story under their broader electricity PSP experience.
Download the Report
Download Case Studies:
Citation
ESMAP. 2015. Private Sector Participation in Electricity Transmission and Distribution: Experiences from Brazil, Peru, the Philippines, and Turkey. Energy Sector Management Assistance Program (ESMAP) knowledge series, no. 023/15. World Bank, Washington, DC. © World Bank. https://openknowledge.worldbank.org/handle/10986/22750 License: CC BY 3.0 IGO.