ESMAP Knowledge Exchange Forum Focuses on Energy Challenges for SIDS
News
ESMAP Knowledge Exchange Forum Focuses on Energy Challenges for SIDS
August 12 2015
Climate change and volatile energy prices present grave challenges for Small Island Developing States, or SIDS. A large share of the electricity and transportation in these countries continues to be fueled by imported petroleum products while energy infrastructure tends to be small and isolated. As a result, SIDS have some of the highest electricity prices in the world. They are also unduly exposed to fuel price volatility and live with a constant threat of supply interruptions.
This unique set of energy challenges drew dynamic discussions at an ESMAP Knowledge Exchange Forum for SIDS in Vienna on June 17, 2015. With almost 70 participants, representing 13 small island states as well as international and bilateral organizations, the event provided an opportunity to share lessons and solutions from island states – big and small.
In her opening remarks, World Bank Senior Director for Energy and Extractives, Anita Marangoly George, said more and more island states were diversifying their energy supplies and demonstrating low-carbon models to other countries.
"Some are even aiming to be powered by 100 per cent renewable energy - in the case of Tuvalu (in the Pacific), by 2020," she said. "Others, most notably the atolls of Tokelau, are already demonstrating how solar PV combined with storage and bio-fuel based backup generation can meet electricity consumption needs." With prices coming down, a move to scaled-up renewable energy, and an emphasis on energy efficiency, can help SIDS generate economic growth and overcome energy constraints. But to get to the stage of affordable energy for all, many SIDS need to undertake comprehensive energy sector reforms.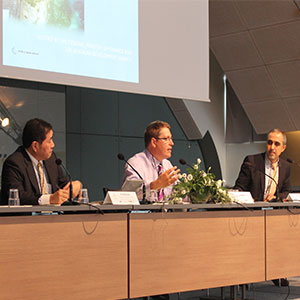 ​
A case study from Barbados, presented by former Energy Minister Elizabeth Thompson outlined ambitious policy targets for renewable energy and energy efficiency – including a public sector smart energy program, promotion of solar hot water heaters and a reform agenda aimed at reducing the island state's fossil fuel dependence. Ms. Thompson said while political will is vital, a key issue for SIDS is also technical capacity to implement the policy agenda. She said the Sustainable Energy for All initiative offered a framework to drive energy sector reform in SIDS so that countries create a clear vision for their future energy mix backed by independent analyses and effective regional policy frameworks.
Anthony Garae, representing the Pacific island of Vanuatu, outlined his country's Energy Road Map for 2013-2020, which has received support from the World Bank. Under the plan, Vanuatu is reviewing its energy policies, establishing an independent regulator and progressing with feed-in-tariffs to encourage renewable energy generation from independent operators.
Participants agreed that focusing on one-off renewable energy projects had not helped SIDS reach the scale they need. Policy reform is needed in many SIDS to improve efficiency, strengthen governance, and make the shift to renewables.
Related Links