Sustainable Energy Gets a Boost in Indian Ocean Nations
News

Sustainable Energy Gets a Boost in Indian Ocean Nations
May 21 2013
Among small island developing states, the Indian Ocean nation of the Seychelles is far along towards the goal of universal energy access. All told, 99.5 percent of the population is connected to the electricity grid. This is no mean feat for a country where citizens are spread over ten islands, in an archipelago comprising 115 islands.
This strong record, however, masks a hidden vulnerability. The Seychelles is completely dependent on imported oil to meet all of its energy needs, including for electricity production. Rises in global energy prices can have an outsized effect on the country and its balance of payments. At the same time, the current energy infrastructure is reaching capacity as demand rises.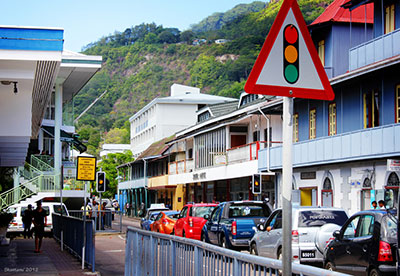 In neighboring Mauritius, the situation is slightly different. With a population 14 times the size of the Seychelles (1.25 million vs. 88,000), it also has a much higher electricity generation capacity. Just over twenty percent of Mauritius' energy is produced from domestic sources—through hydropower and biomass generation from agricultural waste. However, these resources are reaching their limits, and electricity demand is expected to rise by 60 percent over the next ten years. The only option for Mauritius at present is to increase imports of diesel, coal and fuel oil that already generate 79 percent of the country's power.
Both countries are actively working to increase the proportion of energy generated by domestic, renewable sources. In both cases, this will require new policies and regulations, as well as improvements to the electricity grid.
This transition was given a boost in April, when both countries signed agreements with the World Bank for technical assistance activities funded by ESMAP's SIDS DOCK Support Program. SIDS DOCK is an initiative among member countries of the Alliance of Small Island States (AOSIS) to help small island developing states—or SIDS—move towards a more sustainable energy future. In 2011, the World Bank—through ESMAP—joined with UNDP, AOSIS, and the Government of Denmark to establish the SIDS DOCK Support Program. The first phase of the Program has been financed by the Danish Government and is jointly implemented through ESMAP and UNDP. In 2013, the Government of Japan also pledged funding to the Program.
The Government of Seychelles, which views the expansion of renewable energy resources as central to its longer-term development prospects, has set targets for renewable energy capacity of 5 percent by 2020 and 15 percent by 2030. ESMAP's support to the Seychelles through the SIDS DOCK Support Program is intended to strengthen the country's regulatory framework so that it can expand both distributed and centralized generation using renewable resources.
This work will include defining the technical requirements for interconnecting renewable energy systems into the grid; design of model power purchase agreements; and development of feed-in tariffs for wind, solar photovoltaic, biomass, hydro and waste-to-energy power sources.
Mauritius, on the other hand, will look towards expanding its renewable energy base beyond the existing generation from hydropower and agricultural waste biomass, to wind, micro-hydro, waste-to-energy and other biomass sources. The country has set a goal of generating 35 percent of its energy from renewable sources by 2025.
The ESMAP support in Mauritius will finance preparation of a grid code for wind and micro-hydro systems greater than 50 kilowatts; design of feed-in tariffs; and preparation of a package of models and templates of renewable energy supply purchase agreements. Work will be managed by the country's Central Electricity Board, in order to ensure technical consistency across these outputs.
In both cases, this ESMAP-supported work is designed to help the two countries reach one of the main outcomes for SIDS DOCK: creation of an enabling environment that allows for deployment of renewable energy and energy efficiency in line with international best practices.
The activities in the Seychelles and Mauritius are two of eleven projects currently being supported by ESMAP as part of SIDS DOCK. Others include an energy sector development project for Vanuatu, support to the Eastern Caribbean Energy Regulatory Authority, geothermal development in Dominica, and power sector efficiency improvements in São Tomé and Príncipe.
A series of awards for entrepreneurs and institutions developing new innovations to help small island developing states transition to sustainable energy has also been developed and supported by ESMAP, in conjunction with the Ashden foundation. These awards will be presented at the Ashden Awards in London in June 2013.
Related Links