The World Bank Group (WBG) has committed $1 billion for a first-of-its kind program to accelerate investments in battery storage for electric power systems in low and middle-income countries. This investment is intended to increase developing countries' use of wind and solar power, and improve grid reliability, stability and power quality, while reducing carbon emissions.
The WBG financing is expected to mobilize another $4 billion in concessional climate financing and public and private investments. The program aims to finance 17.5 gigawatt hours (GWh) of battery storage by 2025 – more than triple the 4-5 GWh currently installed in all developing countries.
The program was developed by the Energy Sector Management Assistance Program (ESMAP) and Energy Climate Finance teams, which continues to lead its implementation working with World Bank regional energy units and the International Finance Corporation (IFC).
WBG investments will be made in the following areas:
Hybrid solar photo voltaic (PV) + storage plants for reliable electricity supply and diesel/heavy fuel oil displacement shifting part of the energy produced during daylight to evening peak use
Grid services to vertically integrated utilities (ancillary services including frequency control, voltage control or black start capability) through stand-alone batteries that can act as power grid assets
Mini-grids in low access areas, including small island states
In addition to investments, the WBG will also support the development of policies and regulations required to promote deployment of energy storage and the implementation of procurement practices in favor of economically feasible and environmentally friendly battery technologies.
Why battery storage?
The transition to renewable energy sources in today's power systems is becoming one of the largest contributions in tackling climate change. The significant increase in the deployment of wind and solar power and other forms of clean energy, however, requires different forms of flexibility to manage the intermittency of these sources. Due to its fast response, ease of deployment and current trends in cost reductions, battery storage is becoming a significant solution to provide this flexibility.  
​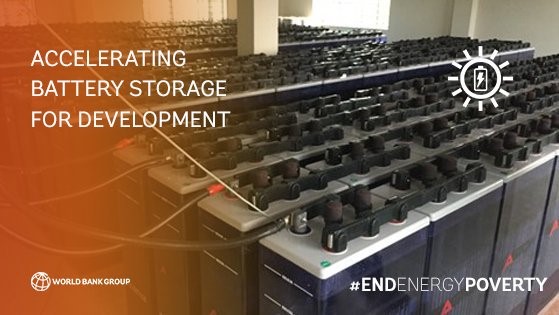 ​
​​Take a look at the infographic to learn more
Storage takes many forms – pumped storage, compressed air storage, and thermal storage, among others. The WBG has been supporting pumped storage and thermal storage (in concentrated solar plants) for years. But batteries – while showing great potential – are still expensive, with a small market primarily in developed countries. Where they are needed most is in developing countries, where power grids are weak and cannot take full advantage of their solar and wind potential, or in emerging economies with a rapid increase in energy needs especially during peak hours.
What is the gap?
The current mainstream market for batteries is driven by the electric vehicles industry. Batteries are developed for vehicle application needs and have inherent limitations (e.g. size and weight are limiting factors for vehicles). The existing batteries are not optimized for use in power systems. Most cannot provide long duration storage and many cannot withstand harsh climatic conditions and low operation and maintenance standards. There is a clear need to catalyze a new market for batteries that are suitable for electricity grids through a variety of applications (not just for electric vehicles) and deployable on a large scale in developing countries. 
Engaging with the program:
Four ways for industry players can get involved in the program include:
Bid on Public Procurement Packages and Requests for Proposals (RFPs) that will be publicly disclosed at https://www.devbusiness.com and https://www.dgmarket.com. Battery manufacturers will be able to bid into procurement processes to supply batteries to public sector entities. Support will be provided to large-scale demonstration projects that prove the commercial viability of battery technologies suitable for developing countries' needs (batteries with long durations suitable for grid deployment, resilient to harsh conditions and with minimal environmental risks). 

Partner with International Finance Corporation (IFC) to develop private sector projects and mobilize financing. IFC will work with private sector clients and host governments to support the development of markets for the private sector to participate in battery storage projects, whether standalone or in combination with solar PV and wind for various applications. Working closely with the World Bank, IFC will engage in upstream activities to create an enabling environment for private financing of storage projects, help develop country-specific and project-specific bankable project documents and mobilize financing, including blended finance, to support the rapid commercialization of storage in developing countries. For more information on this, please contact askinfra@ifc.org.
Submit Expressions of Interest (for eligible WBG vendors) for contracts at https://wbgeconsult2.worldbank.org/wbgec/index.html. A range of interested and qualified stakeholders can also bid for consulting services under WBG projects. It is not a requirement that firms submitting proposals for these services be registered as vendors already, but the firms must be eligible to become a vendor and register as a qualified vendor before a contract to the selected firm can be issued.
Learn about our Energy storage partnership (ESP) initiative by writing to energystorage@worldbankgroup.org. The WBG is convening an Energy Storage Partnership (ESP) to foster international cooperation on: technology research development & demonstration, applications; system integration and planning tools;  enabling infrastructure, such as communication technologies and energy management systems; and policies, regulations and procurement for energy storage. The ESP will take a holistic technology-neutral approach to energy storage, potentially covering all forms of energy storage technologies. By developing and adapting new storage solutions to the needs of developing countries, the ESP will help expand the global market for grid storage, leading to technology improvements and new opportunities.
---
RELATED