A SNEAK PEEK: Off-Grid Solar Market Trends Report 2022 State of the Sector
Events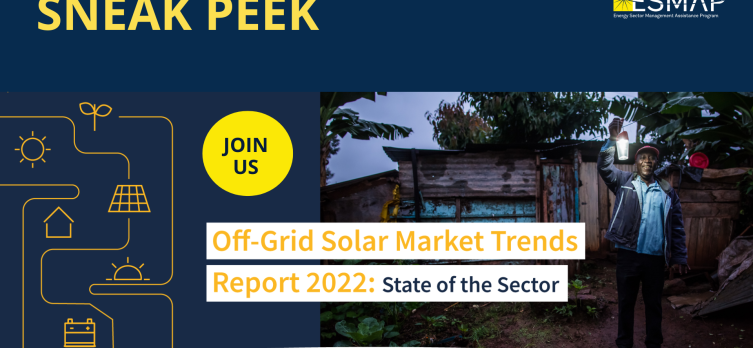 PAST EVENT | A SNEAK PEEK: Off-Grid Solar Market Trends Report 2022 State of the Sector
Lighting Global/ESMAP, International Finance Corporation, Efficiency for Access Coalition, GOGLA, and Open Capital Advisors are pleased to invite you to the virtual launch of the 2022 Off-Grid Solar Market Trends Report, "State of the Sector" on 22 September 2022.

The 2022 Off-Grid Solar Market Trends Report is the sixth report in a biennial series established over the past decade as the report of record for the off-grid solar industry. The launch event will feature speakers from governments, development institutions, investors, and the private sector, who will share with us their in-depth insights into the latest key market dynamics and trends.

The report is, for the first time, split into two parts. The first part of the report will focus on the current 'State of the Sector,' while the second report, to be published in October 2022, will provide an 'Outlook to 2030'. We hope that presenting the findings in this way will improve readability and allow readers to engage more deeply with the content.
SPEAKERS or DISCUSSANTS – 11AM CEST
Speakers
Harry Masters (Open Capital Advisors)
Sjef Ketelaars (GOGLA)
Dana Rysankova (ESMAP)
Eva Stolz (Persistent)
JK Jethani (Ministry of New & Renewable Energy, India)
Mansoor Hamayun (Bboxx)
Makena Ireri (Efficiency for Access)
Bill Gallery (International Finance Corporation)
SPEAKERS or DISCUSSANTS – 4PM CEST
Harry Masters (Open Capital Advisors)
Sjef Ketelaars (GOGLA)
Dana Rysankova (ESMAP)
Geoffrey Manley (British International Investment)
Annick Muhama (Ministry of Infrastructure, Rwanda)
Karl Skare (d.light)
Makena Ireri (Efficiency for Access)
Bill Gallery (International Finance Corporation)