ESP Stakeholder Forum on December 5, 2022, and the 8th ESP Partner Meetings from December 5-8, 2022 | Seoul, Korea
Events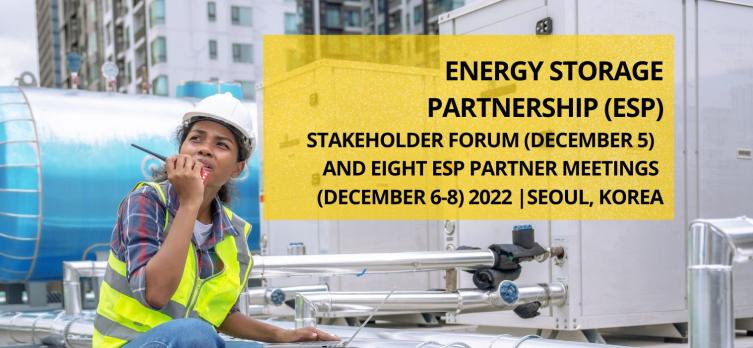 ESP Stakeholder Forum on December 5, 2022, and the 8th ESP Partner Meetings from December 5-8, 2022 | Seoul, Korea
Venue: Seoul, Korea
The Energy Storage Partnership (ESP) Secretariat announces the December 5, 2022, ESP Stakeholder Forum, and the 8thESP Partner Meetings from December 5-8, 2022, in Seoul, Korea.
The Forum and the Partners Meetings will be hosted jointly by the World Bank's Energy Sector Management Assistance Program (ESMAP), as the ESP Secretariat, and our colleagues from the Korea Green Growth Trust Fund (KGGTF), and the Korea Battery Industry Association (KBIA).
The 2022 ESP Stakeholder Forum and Partners meetings will be held in a hybrid format and at the venue for the in-person discussions will be at GKEDC (Global Knowledge Exchange and Development Center) located in Seoul, Korea. As we are excited to host our first meetings with an in-person component since 2019, we are planning an agenda with multiple activities that we are confident will be of interest to you. The draft agenda will be shared with you in the next weeks. Register for the Stakeholder Forum.
As with previous years, the ESP Stakeholder Forum will bring together multiple energy storage practitioners into a knowledge dissemination forum tailored to promote the adaptation of new and innovative technologies to the developing countries' needs in the framework of decarbonization and achieving the 1.5°C climate goal. In this regard, the ESP Stakeholder Forum provides the best international practices and provides a platform where World Bank clients share the challenges and opportunities that the deployment of energy storage systems and renewable energy have faced in developing countries.
This will be complemented by presentations from groundbreaking energy storage technology providers about their projects in multiple developing countries.
Contact:  Alfredo Villavicencio (esmap@worldbank.org)