Bringing Variable Renewable Energy Up to Scale
Publications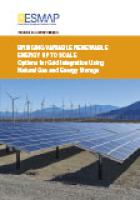 Bringing Variable Renewable Energy Up to Scale
This report looks at the nature of Variable Renewable Energy (VRE) and the resulting challenges associated with the integration of VRE technologies into a power system. It provides an overview of the measures available to  limit and manage these challenges.
This report highlights the importance of increased flexibility when integrating high levels of VRE, and focuses on two sets of options to provide such flexibility: natural gas-fired power generation technologies and energy storage.
Finally, this report provides some insight into the implications of VRE expansion for planning and regulation, and finishes with some recommendations for planners and policy makers.
Feature Story | Infographic | Blog | Report