Power Sector Policy Note for the Kyrgyz Republic
Publications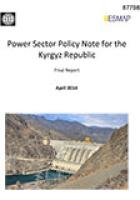 Power Sector Policy Note for the Kyrgyz Republic
This Power Sector Policy Note analyzes the principal challenges in the power sector of the Kyrgyz Republic and identifies possible solutions for overcoming them.
It also describes the legal, regulatory and institutional arrangements in the sector, and compares the arrangements in the Kyrgyz Republic to those in other countries' power sectors.
The analysis in the Note is targeted to inform, and support for the on-going reform efforts of the Government of the Kyrgyz Republic in the power sector.
The Note substantiates the need for reforms through analysis and proposes solutions consistent with the Strategy and Action Plan.