ESMAP Energy & Climate Adaptation Highlights
News

ESMAP Energy & Climate Adaptation Highlights
September 30 2010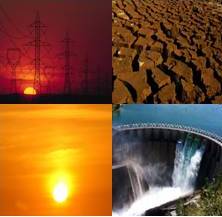 Many countries are vulnerable to weather events, be it extreme events or variations in average temperatures, precipitation levels or other parameters. The vulnerability is driven in part by exposure to these changes but also by countries' sensitivity to events being exacerbated by past practices, socio-economic or legacy issues. The degree to which vulnerability to weather affects the countries' economies is driven by their coping or adaptive capacities.
It is important to explore these vulnerabilities for the energy sector, given its major contribution to economic development, the dependence of supply and demand and hence energy security on weather events, and also because weather information can be used to improve planning, design, operations and maintenance to reduce the vulnerability of this sector if the information is provided in the right form and in real-time.
Despite the importance of this issue much of the dialogue on climate change in the energy sector has focused on climate mitigation and carbon trading and there has been more limited exploration of the synergies between climate mitigation and adaptation or the importance of managing climate variability. This is an emerging dialogue in the energy sector. Capacity is mostly concentrated in developed countries and large global private sector organizations , academia and research organizations , hydro-meteorological institutes and weather agencies in developed countries (e.g. NOAA, UK Hadley Center, ECMWF) or within the World Meteorological Institute where dialogue is mostly focused on weather/ climate information exchange rather than its application in energy sector policy and management.
The objective of the ESMAP Energy and Climate Adaptation Initiative is to develop and test processes to mainstream climate risk management and adaptation into energy sector planning and operations in the World Bank and to support awareness raising and knowledge transfer with clients and external stakeholders. The program employs a learning-by-doing approach, working with subject matter experts and pilot programs. ESMAP works closely with external experts, energy practitioners and World Bank specialists engaged on climate change. The approaches and expected outputs of the program are below:
Learning-by-Doing. Pilot Climate Vulnerability, Risk and Adaptation Assessments in the energy sectors of Albania (2009) and Uzbekistan (2010) were supported with the Trust Fund for Environmentally and Socially Sustainable Development and the World Bank's Europe and Central Asia Region. These projects tested approaches to help countries and energy sector stakeholders identify energy vulnerabilities and concerns as the climate changes as well as opportunities for their management.
Knowledge Exchange The lessons from Albania, the first study to be completed, have been placed on the World Bank Group's Climate Change Data Portal to support information sharing and have formed the basis of a Hands-On-Workshop (HOW) on Climate Adaptation that has been successfully delivered to World Bank staff in the field.
T
ools HEAT, a Hands-on Energy Adaptation Toolkit documents the lessons, experience and process followed in implementing the pilot Climate Vulnerability Assessment program in Albania and Uzbekistan. HEAT provides step-by-step guidance to lead energy practitioners through a stakeholder based semi-quantified risk assessment of climate vulnerabilities and adaptation options in a country's energy sector. HEAT is available on ESMAP's website .
New Thinking. A White Paper "Climate Resiliency in Energy Systems" (Fall 2010) commissioned jointly by ESMAP and the World Bank Group's Global Expert Team for Adaptation draws on contributions from organizations engaged on cutting edge thinking on this topic: Oxford University, Federal University of Rio de Janeiro, CSIRO Australia, UNEP Riso Center, and ClimDevAfrica. The paper draws on recent research efforts and experience (updating and expanding information contained in IPCC AR4) to identify key issues for energy sector adaptation. It first maps out historical and projected climate changes, energy sector vulnerability (both to individual projects and to the system), adaptation options, tools and risk management experience as well as policy and institutional considerations. It is intended to be a comprehensive source of knowledge for the sector that will be used to promote learning and inform ESMAP activities going forward.
Policy Dialogue. (Summer 2011) Together with the Bank's climate change team, ESMAP is developing an approach to screen the energy sectors in pilot countries for potential climate vulnerabilities and stressors and to identify adaptation priorities and options. The notes aim to support awareness raising, policy dialogue and knowledge exchange on energy system vulnerability to climate change and provide an entry to a discussion on required analysis, planning and adaptation to support increased sector resilience.

Upcoming Events:
 September 30, 2010: BBL on Energy Adaptation in the ECA Region & HEAT: A Hands on Energy Adaptation Toolkit
 October 12, 2010: Side Event on "Climate & Energy for Development", 7th African Development Forum, Ethiopia
 November 2010 (TBC): Hands on Training on Hands on Energy Adaptation Toolkit
Related Resources:
Country Level Experience