International Conference on Sustainable Cooling
Events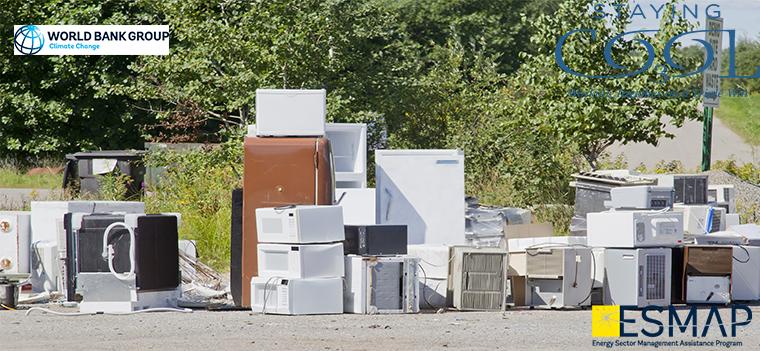 International Conference on Sustainable Cooling
Venue: 1818 H Street, N.W., Washington DC
The International Conference on Sustainable Cooling took place November 28-30, 2018 at the World Bank in Washington D.C. The conference was organized by the World Bank's Montreal Protocol team in the Climate Change Group together with the World Bank's Energy Global Practice.
The aim was to bring together representatives from governments, the private sector, financial institutions and international organizations to discuss the challenges and opportunities of sustainable cooling in the context of the Sustainable Development Goals, the Paris Agreement and the Kigali Amendment.

This is a critical time to discuss these issues. Electricity demand for cooling is increasing quickly, driven by the rise of temperatures and a rapidly expanding middle class in many developing countries. The International Energy Agency's recent report showed that by 2050 around two-thirds of the world's households could have an air-conditioner, leading to a tripling of energy demand. More importantly, and as shown in the Sustainable Energy for All's report, more than a billion people still lack access to cooling for their basic needs. Actions to ensure that cooling is sustainable, affordable and accessible to all are essential to achieving the SDGs.

During the event, participants had the opportunity to exchange ideas and strengthen collaboration with organizations and partners interested in taking action. 
Below, please find the agenda, speaker presentations of the three-day conference and recordings of Day 1.
Agenda with links to presentations
DAY 1 | Wednesday, November 28, 2018
Session 1 | Welcome Remarks
Session 2 | Cooling for Healthy, Resilient, Stable Societies - Setting the Stage (Session Recording)
Glenn Pearce-Oroz, Policy and Programme Director, Sustainable Energy for All (Presentation)
Kathleen Gaffney, Senior Program Manager, International Energy Agency (Presentation)
Milina Battaglini, Manager, Montreal Protocol Unit, The World Bank (Presentation)
Session 3 | Thinking Ahead: What are the Solutions for Sustainable and Affordable Clean Cooling? (Session Recording)
Rushad Nanavatty, Principal, Rocky Mountain Institute (Presentation)
Session 4 | A Focus on the Policy and Regulatory Aspects of the Cooling Challenge (Session Recording)
Session 5 | Scaling-up Efficient Clean Cooling: What is Needed and How to Finance it? (Session Recording)
Session 6 | Private Sector Engagement to Accelerate the Cooling Market Transformation: What's Needed? (Session Recording)
James Wolf, Presidential Member ASHRAE, President of Global Policy Associates and Consultant to Ingersoll Rand, Trane (Presentation)
Samir Hamed, Petra Engineering Industries Company, Jordan (Presentation)
Mark Stanga, Policy advocate, Daikin (Presentation)
---
DAY 2 | Thursday, November 29, 2018
Session 7 | Challenges and Business Opportunities for Cold Chain Development
Session 8 | AC and Refrigeration Technology: Getting to Market
Anette Meyer Holley, Business Manager, Building Services Research and Information Association (Presentation)
Scott Nicholson, Researcher, National Renewable Energy Laboratory – Mapping the Air Conditioner Compressor Supply Chain (No Presentation)
Philipp Denzinger, Proklima International, Costa Rica Coordinator, GIZ-Solar Cooling Technology (Presentation)
Aaswath Raman, Co-Founder, CSO, SkyCool Systems (Presentation)
Session 9 | Kigali Amendment: Status and Linkages
Suely Carvalho, OORG expert- Energy efficiency and the Montreal Protocol agenda:  Rationale and experiences (Presentation)
Thanavat Junchaya, Senior Environmental Specialist, The World Bank-  Status of Discussion on Decisions Related to Maintaining and/or Enhancing Energy Efficiency under the MLF (Presentation)
Session 10 | Refrigerants with Low Global Warming Potential: An Update
Piotr Domanski, OORG Expert- Recent Developments in Low-GWP Refrigerant Alternatives(Presentation)
Philipp Denzinger, ProKlima International, Costa Rica Coordinator, GIZ - Natural Refrigerants (Presentation)
Radhey Agarwal, OORG Expert – Refrigerants in High Ambient Temperature Countries (Presentation)
Session 11 | HFC and Energy Efficiency Initiatives: Early Experiences
Mary-Ellen Foley, Senior Environmental Specialist, The World Bank- Funding Options for Energy Efficient Refrigeration and Air Conditioning (Presentation)
Ana Maria Carreno, Manager, CLASP- KCEP Readiness Manufacturing Initiative: Findings from the AC markets in Thailand, Vietnam and the Philippines (Presentation)
Thanavat Junchaya, Senior Environmental Specialist, World Bank- AC conversion in Thailand: Case Study (Presentation)
---
DAY 3 | Friday, November 30, 2018
Session 12 | Addressing Energy Efficiency while Phasing Down Hydrofluorocarbons (HFCs)
Session 13 | Strategies and Planning: Implementing the Kigali Agenda
For more information, email Patricia Braxton, World Bank's Montreal Protocol Team: pbraxton@worldbank.org