The Political Economy of Energy Subsidy Reform
This book proposes a simple framework for understanding the political economy of subsidy reform andapplies it to four in-depth country studies covering more than 30 distinct episodes of reform.
---
Rural Electrification with The Shield Wire Scheme in Low-Income Countries
The manual begins with a description of the concept and aims of the shield wire scheme (SWS). The scheme is applicable for minimum cost power supply from the grid to villages, small towns, farms, factories, and water pumping stations located near or at some distance from the route of the high-voltage (HV), 110 to 330 kV, transmission lines (TLs).
---
State of Electricity Access Report, and Special Feature Reports
The State of Electricity Access Report, 2017, aims to prompt governments, donors, the private sector, civil society organizations, and practitioners to develop interventions to close the electricity access gap by integrating lessons learned with insights drawn from emerging innovative business and delivery models.
---
Global Tracking Framework 2017
The report provides an overview of long-term trends since 1990 and focuses on progress achieved in the most recent period, 2012–14.
---
Modeling the Water-Energy Nexus: How Do Water Constraints Affect Energy Planning in South Africa?
This research focuses on incorporating a representation of water supply and infrastructure costs into an energy systems model (SATIM-W) to better reflect the interdependent nature of the energy-water nexus in South Africa and the water supply challenges facing the energy system. The research methodology developed embeds the various water supply options in a least cost optimization energy planning tool, so that the cost of water is captured.
---
Regulatory Indicators for Sustainable Energy: A Global Scorecard for Policy Makers
This report—based on a new and comprehensive global policy scorecard called Regulatory Indicators for Sustainable Energy (RISE) - answers two important questions. Are policymakers around the world truly rising to the challenge posed by the new global sustainable energy agenda? Where is further action most critically needed?
---
Energy Storage Trends and Opportunities in Emerging Markets
The report outlines the principal uses, drivers, and challenges regarding the commercialization of energy storage technologies in low- and middle-income countries, providing a forecast of expected deployments by region and impacts on energy access, grid stability, and other key areas. Technical review was provided by the U.S. Department of Energy's Clean Energy Investment Center.
---
The ESMAP Annual Report 2016 takes a comprehensive look at ESMAP's programs, activities, and results for FY2016 and for the business plan cycle for FY2014-16.
---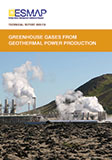 Greenhouse Gases from Geothermal Power Production
This report gives guidance to project developers and financial institutions on to how to estimate emissions, ex ante, from geothermal power projects, especially those being considered for financing by The World Bank and other multilateral development banks, or even the private sector.
---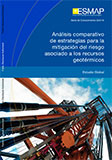 Comparative Analysis of Approaches to Geothermal Resource Risk Mitigation: A Global Survey
This report presents a comparative assessment of an array of approaches that have been applied around the world, with varying degrees of success, to mitigate resource risks and catalyze investments in developing the geothermal sector.
It provides a framework that can help decision makers identify suitable approaches that align with development goals, funding capacity, implementation capabilities, and other country-specific contexts. The report is based on the World Bank's own extensive global experience in geothermal development and drawing upon international expertise from leading specialists and practitioners.
English | Spanish | ESMAP Renewable Energy Program
---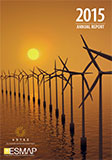 ASTAE/ESMAP 2015 Annual Report
The ESMAP Annual Report 2015 takes a comprehensive look at ESMAP's programs, activities, and results for Fiscal Year 2015. The first chapter highlights our work for the year, followed by chapters each giving an overview of FY2015 activities and results in ESMAP's main program areas: clean energy, energy access, energy efficient cities, and energy assessments and strategies. The report also includes sections on special initiatives such as the SIDS DOCK Support Program for small island developing states; the Africa Renewable Energy and Access Program (AFREA); Gender and Social Inclusion in the Energy Sector; and Results-Based Approaches to energy sector development.
---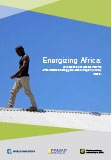 Energizing Africa: Achievements and Lessons from the Africa Renewable Energy and Access Program (AFREA) | Phase I
This publication zooms in on the key regional programs that were supported: Lighting Africa, the Biomass Energy Initiative for Africa (BEIA), Africa Clean Cooking Energy Solutions (ACCES), the Gender and Energy Program, and the African Electrification Initiative (AEI). One chapter also documents the results of a successful national program—the Rwanda Sector-wide Approach (SWAp).
---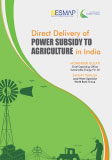 Direct Delivery of Power Subsidy to Agriculture in India
This report is a significant contribution to the global debate on the vital links between water, energy and food and a step forward for anyone seeking new approaches to address and overcome this intractable problem facing the state governments, farmers and power utilities in India for decades.
---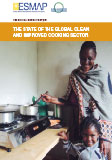 The State of the Global Clean and Improved Cooking Sector
The central message from the report is that the household cooking market has immense potential with households, that together already spend over US$100 billion annually on cooking fuel. While there remain formidable challenges to overcome, there is significant opportunity in the large and growing clean cooking market.
---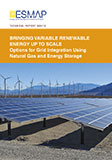 Bringing Variable Renewable Energy Up To Scale | Options for Grid Integration Using Natural Gas and Energy Storage
This report looks at the nature of Variable Renewable Energy (VRE) and the resulting challenges associated with the integration of VRE technologies into a power system. It provides an overview of the measures available to limit and manage these challenges.
This report highlights the importance of increased flexibility when integrating high levels of VRE, and focuses on two sets of options to provide such flexibility: natural gas-fired power generation technologies and energy storage. This report also provides some insight into the implications of VRE expansion for planning and regulation, and finishes with some recommendations for planners and policy makers.
---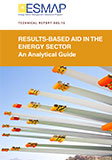 Results-Based Aid in the Energy Sector | An Analytical Guide
The objective of the report is to explain the circumstances in which RBA may best be used, as well as to provide practical suggestions to recipients, funders, and development practitioners on how to design an RBA agreement so as to increase the likelihood of success. Although its primary focus is on the energy sector, and this sector provides the bulk of the contextual examples used in the report, much of the analysis is also relevant to other sectors.
---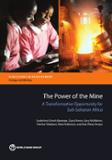 The Power of the Mine: A Transformative Opportunity for Sub-Saharan Africa
The report finds that mining demand can indeed be a game-changer - an opportunity for policymakers and the international community to make a difference by tapping the enormous mineral wealth of Africa for the benefit of all.
---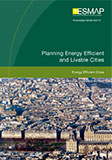 Planning Energy Efficient and Livable Cities | Mayoral Guidance Note #6
This note advises city leaders on how to manage the growth and transformation of urban forms toward an energy efficient and livable path through supportive planning policies, zoning regulations, and design guidelines.
---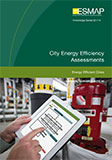 City Energy Efficiency Assessments | Mayoral Guidance Note #5
This guidance note provides an introduction to the objectives, scope, and outputs, as well as the basic steps and approaches of conducting the three types of energy efficiency assessments. It may be used as a general reference for choosing and defining the type of energy efficiency assessment that a city might pursue.
---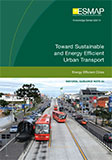 Toward Sustainable and Energy Efficient Urban Transport | Mayoral Guidance Note #4
The objective of this guidance note is to present a systematic, practical, and comprehensive approach to dealing with the problems of urban transport. It outlines a framework of possible interventions and demonstrates how such interventions relate to the overall objectives of improving mobility and energy efficiency as well as reducing air pollution and road accidents.
---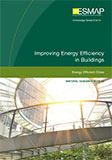 Improving Energy Efficiency in Buildings | Mayoral Guidance Note #3
This guidance note outlines how cities can tap into a wide array of proven technologies, policies, and financing mechanisms to improve energy efficiency and capture cost-effective energy savings in buildings. It offers city leaders advice on how to get started in introducing energy efficiency measures, and provides lessons and examples from successful programs that have been introduced worldwide.
---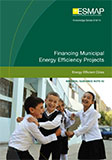 Financing Municipal Energy Efficiency Projects | Mayoral Guidance Note #2
The challenges that limit efficiency investments in municipal buildings and facilities include a lack of awareness and incentives, insufficient implementation capacity, and limited access to financing. All three challenges need to be addressed to scale up successful implementation of municipal energy efficiency projects.
This guidance note focuses on the key issues faced by municipalities in accessing financing for energy efficiency investments, particularly for projects in the following four areas: (i) indoor lighting; (ii) building retrofits: (iii) public lighting; and (iv) municipal utilities. The note also looks at various financing mechanisms that can be used by municipalities to fund such projects.

---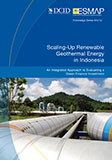 Scaling-Up Renewable Geothermal Energy in Indonesia
Geothermal is a reliable and non-intermittent power source and the only renewable energy that can effectively substitute baseload generation. Electricity from geothermal plants would displace coal-based power in Indonesia.
To justify public support and evaluate the viability of this "green finance" investment, an integrated approach to decision making was utilized based on the combined assessments of financial-economic-stakeholder-risk impacts.
---
Driving Energy Efficiency Markets through Municipal Procurement | Mayoral Guidance Note #1
Forward-looking cities today can be champions for energy efficiency, showing other cities and national governments how such measures can save money and drive markets.
This guidance note outlines the opportunities and barriers to adopting these procurement strategies, provides global lessons and examples, and offers step-by-step guidance on how cities can get started with energy efficient purchasing policies.
This guidance note outlines the opportunities and barriers to adopting these procurement strategies, provides global lessons and examples, and offers step-by-step guidance on how cities can get started with energy efficient purchasing policies.
---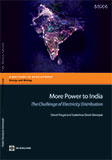 More Power to India: The Challenge of Electricity Distribution
Two decades after the liberalization of India's economy and a decade after the passage of the Electricity Act of 2003, what is the state of India's power sector? More Power to India: The Challenge of Electricity Distribution assesses progress in implementing the government's reform agenda and examines the performance of the sector along different dimensions.
The sector has come a long way, with significant achievements on many fronts. However, the lack of reliable power is a leading concern and a potential constraint to growth. Annual per capita consumption is low by global standards and 300 million people lack electricity while the peak deficit is more than 10 percent. The incentives of state government, regulators and commercial financial institutions must be aligned to support utility performance. While the Electricity Act and associated policies constitute an enabling policy and regulatory framework for the sector's development, the authors argue that the focus now must be on implementation.

---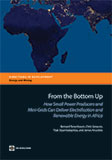 From the Bottom Up: How Small Power Producers and Mini-Grids Can Deliver Electrification and Renewable Energy in Africa
The guide highlights the ground-level regulatory and policy questions that must be answered by electricity regulators, rural energy agencies, and ministries to promote commercially sustainable investments by private operators and community organizations. Among the practical questions addressed is how to design and implement retail tariffs, quality of service standards, feed-in tariffs, and backup tariffs.
---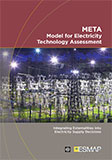 META | Model for Electricity Technology Assessment
META yields levelized costs for generation, transmission, and distribution for each electricity supply technology option from a relatively few input parameters. One of the features of META is that it allows for integration of environmental externalities, such as local pollution and greenhouse gas emissions.
---
Manual de Geotermia: Cómo Planificar y Financiar la Generación de Electricidad
El informe estresa la importancia de una concertada ayuda internacional para ayudar a financiar el aumento de proyectos durante las etapas tempranas y durante las fases riesgosas para así lograr mitigar el riesgo y hacer que los proyectos sean más atractivos para la inversión privada.
---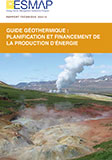 Guide Géothermique: Planification et Financement de la Production D'Énergie
Le rapport souligne l'importance d'une coordination de l'aide pour financer la géothermie dans les phases préliminaires de validation de la ressource, afin d'atténuer le risque et rendre les projets attrayants à l'investissement privé.
---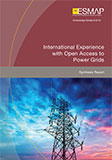 International Experience with Open Access to Power Grids | Synthesis Report
The report on International Experience with Open Access to Power Grids advises World Bank staff and country clients on effective options for open access implementation. The experience from a number of countries has been reviewed from this perspective—including Brazil, Peru, Turkey, India and the Philippines, along with the key elements of the open access models applied in the United States and countries of the European Union.

---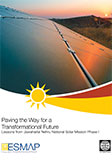 Paving the Way to a Transformational Future | Lessons from the Jawaharlal Nehru National Solar Mission
This study looks at the lessons learned and challenges of Phase I of the JNNSM, and lays out issues identified as critical by most stakeholders, which require closer attention and resolution.
---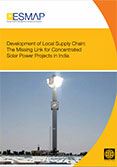 Development of Local Supply Chain | The Missing Link for Concentrated Solar Power Projects in India
The specific objective of the study is to assess the potential of India's industries to set up a manufacturing base to produce CSP technology components and equipment.
The study assesses competitive positioning and the potential of Indian companies in the manufacturing of important CSP components.The report also proposes an Action Plan to help develop this potential and evaluate the resulting economic benefits.
---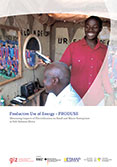 Productive Use of Energy – PRODUSE | Measuring Impacts of Electrification on Small and Micro-Enterprises in Sub-Saharan Africa
The study confirms that differences between firms that get connected to electricity and those that do not get connected are substantial. While service firms tend to get connected to the grid, take-up rates in the manufacturing sector of rural areas were low in the countries that have been studied.

---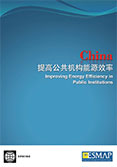 China | Improving Energy Efficiency in Public Institutions
This note summarizes the main recommendations from a World Bank review of both China's recent efforts and relevant international experience.
---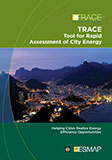 TRACE | Tool for Rapid Assessment of City Energy
The Tool for Rapid Assessment of City Energy (TRACE) is a decision-support system designed to help cities quickly identify and harness EE opportunities. It targets underperforming sectors, evaluates improvement and cost-saving potential, and helps prioritize actions for EE interventions. TRACE focuses on the municipal sectors with the highest energy use: passenger transport, municipal buildings, water and wastewater, public lighting, power and heat, and solid waste.
---
Assessing Low-Carbon Development in Nigeria | An Analysis of Four Sectors
The Federal Government of Nigeria and the World Bank have agreed to carry out a Climate Change Assessment (CCA) within the framework of the Bank's Country Partnership Strategy for Nigeria (2010-13). The CCA includ
es an analysis of options for low-carbon development in selected sectors, including power, oil and gas, transport, and agriculture.
---
Sample Guidelines: Cumulative Environmental Impact Assessment for Hydropower Projects in Turkey
The general objectives of the guidelines are to improve or strengthen the EIA process and implementation, provide support for studies related to Strategic Environment
al Assessment (SEA) Regulation and future SEA processes, and promote the sustainable development of natural resources as well as enhance basin management planning.
---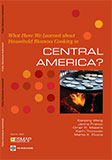 What Have We Learned about Household Biomass Cooking in Central America?
This study finds that the use of biomass for cooking in the region will likely continue to be significant for a long time due to population growth, high incidence of poverty, high prices for household gas (LPG) coupled with unsustainable LPG subsidies, as well as relatively easy access to fuelwood in the region.
---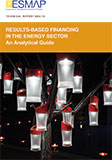 Results-Based Financing In The Energy Sector | An Analytical Guide
This report aims to help fill the gap. Its novelty rests on a conceptual examination of RBF mechanisms to derive insights on when and under which circumstances they are desirable, and the application of these insights to the energy access and energy efficiency contexts.
---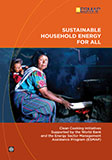 Sustainable Household Energy for All
ESMAP's strategic engagement in the clean cooking sector includes:
• helping to broaden the scope of energy sector reform and policy dialog to include household energy access issues;
• producing analytical work to inform dialogue and to support technical assistance and lending operations; and
• helping to design and implement clean cooking interventions in World Bank operations.

---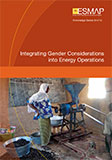 Integrating Gender Considerations into Energy Operations
This briefing note discusses the key elements of the gender-energy topic and provides specific examples of how to integrate gender considerations in energy policy dialogue and the project cycle.
It draws on recent experience within the World Bank and elsewhere in mainstreaming gender in energy projects, and looks at three key areas: assessment, action, and monitoring and evaluation.
---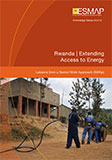 Rwanda | Extending Access to Energy: Lessons from a Sector-Wide Approach (SWAp)
This report provides a number of key lessons realized from the Rwanda Energy SWAp for development partners and governments considering using such an approach. Country and government ownership and leadership is essential for efficient program planning and implementation, as is an alignment with national priorities and policies.
---

Commercial Woodfuel Production: Experience from Three Locally Controlled Wood Production Models
This report profiles three promising models of commercial forestry that can contribute to modernization and rationalization of the wood energy sector in developing countries: (i) community-based forest management (CBFM), (ii) private woodlots in Sub-Saharan Africa, and (iii) forest replacement associations (FRA) in Latin America.
---

Planning for a Low Carbon Future: Lessons Learned from Seven Country Studies
This report distills the lessons learned from these studies and is intended as a practical guide for government officials, practitioners, and development agencies involved in low carbon development planning.
---
Public Procurement of Energy Efficient Products | Lessons from Around the World
As big and visible consumers, actions taken by governments to improve energy efficiency can strongly influence decisions by businesses and private citizens. This report assesses global experiences with energy efficient purchasing (EEP) as a tool to help governments improve the efficiency of their facilities and public services. Under such programs, governments can require or encourage their agencies to include energy efficient requirements or preferences when they purchase products that use energy, such as lighting, office equipment and vehicles. In most cases, EEP programs are designed to give preference to products that offer the best value over the products' lifetimes.
---
Geothermal Handbook | Planning and Financing Power Generation
The Geothermal Handbook is a comprehensive guide to planning and financing geothermal projects. Based on lessons learned from multiple investment successes and failures, the handbook presents a step-by-step understanding of the phases of geothermal project development, looking at the risks involved and at the policies, institutions and financing mechanisms needed to successfully bring projects to fruition.
The report stresses the importance of concerted international assistance to help finance geothermal scale-up in the early, risky phases of development, in order to mitigate risk and make projects attractive to private investment.
---
Mitigating Vulnerability to High and Volatile Oil Prices: Power Sector Experience in Latin America and the Caribbean
Countries heavily dependent on imported oil to power a significant portion of their electricity generation are especially vulnerable to high and volatile oil prices. In net oil-importing countries worldwide, high and volatile oil prices ripple through the power sector to numerous segments of the economy. As prices move up and down, so does the cost of electricity production, which has far-reaching effects on the economy, fiscal and trade balances, businesses, and household living standards. High and volatile oil prices affect economies at both a macro and micro level.
---
Cleaner Hearths, Better Homes: New Stoves for India and the Developing World
Cleaner Hearths, Better Homes draws on case studies from six Indian states—Maharashtra, Haryana, Karnataka, Gujarat, Andhra Pradesh, and West Bengal—and other stove programs around the globe. It discusses both, the shortcomings and positive features of India's legacy improved biomass stove programs, and suggests policies and practical ways to promote the use of cleaner burning, energy efficient, and affordable stoves.
---
Drilling Down on Geothermal Potential | An Assessment for Central America
This report looks at lessons to identify the challenges associated with development of geothermal generation, including physical, financial, regulatory and institutional barriers. It outlines possible strategies to overcome them at the regional and country-specific level to provide decision-makers a reference document with a regional outlook. This report is the fourth in a series of studies undertaken by the World Bank to better understand the energy challenges facing Central American countries.

---
Sustainable Low-Carbon City Development in China
By embarking on a low-carbon growth path, China's cities can help reach the country's targets for reducing the energy and carbon intensity of its economy, and become more livable, efficient, competitive, and ultimately sustainable.
This report aims to provide central government policymakers and those of municipalities, cities and townships in China with practical lessons on sustainable low-carbon development.
---
Transmission Expansion for Renewable Energy Scale-Up
This report reviews emerging practices and makes recommendations on planning the scaled-up transmission that is needed to accommodate new renewable sources of energy. It also provides guidance on regulating transmission to ensure that renewable energy goals are achieved. The report recommends that governments and utilities favor such approaches over reactive ones in which the transmission provider responds ex-post to renewable energy projects that are already underway or even completed.

---

Handbook on Planning and Financing Geothermal Power Generation | Executive Summary
The Geothermal Handbook is a comprehensive guide to planning and financing geothermal projects. Based on lessons learned from multiple investment successes and failures, the handbook presents a step-by-step understanding of the phases of geothermal project development, looking at the risks involved and at the policies, institutions and financing mechanisms needed to successfully bring projects to fruition. The report stresses the importance of concerted international assistance to help finance geothermal scale-up in the early, risky phases of development, in order to mitigate risk and make projects attractive to private investment.
---

Innovative Approaches to Energy Access for the Urban Poor
Rapid urban growth in developing countries has created an unprecedented demand for energy services. Cities face the enormous challenge of improving energy access to urban communities in order to improve education, health and basic socioeconomic conditions. These eight case studies demonstrate innovative, successful approaches to delivery of energy services to the urban and peri-urban poor. The case studies focus on electricity and clean fuels, and are taken from India, Brazil, Colombia and Bangladesh.
---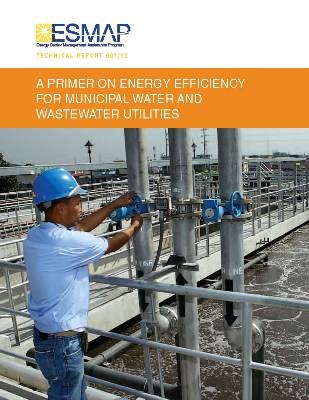 A Primer on Energy Efficiency for Municipal Water and Wastewater Utilities
Improving energy efficiency is at the core of measures to reduce operational cost at water and wastewater utilities. Since energy represents the largest controllable operational expenditure of most WWUs, and many EE measures have a payback period of less than five years, investing in efficiency supports quicker and greater expansion of clean water access for the poor by making the system cheaper to operate.
---

Energy Intensive Sectors of the Indian Economy | Path to Low Carbon Development (Full Report), South Asia Region
Initiated in 2005, this study was requested by the government of India to: (a) develop the analytical capacity required to help identify low carbon growth opportunities, up to the end of the 15th Five Year Plan (March 2032), in major sectors of the economy; and (b) facilitate informed decision-making by improving the knowledge base and raising national and international awareness of India's efforts to address global climate change.
---